Method:
1. Trim leaves from stems of spinach; wash leaves, then chop or shred them. Heat butter in a large pan; add onion, cook until soft. Add spinach leaves and cook, stirring, until leaves have wilted and are tender.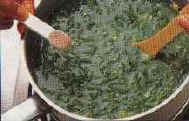 2. Add flour, stir over heat until vegetables are coated. Remove mixture from heat, stir in stock; return to heat. Stir over heat until mixture boils and thickens. Add milk, nutmeg, and salt and pepper. Cover, simmer for 15-20 mins, or until spinach is soft.
3. Cool soup slightly; process in batches in food processor or blender until smooth. Return to pan and heat through. Serve with croutons, if desired. Note:- For a darker soup, replace 1 bunch of the spinach with 1 bunch of silver beet.