Ingredients
1 red onion
3 tomatoes
½ medium cucumber
½ green capsicum, seeded
½ red capsicum, seeded
1 clove garlic, crushed
850 ml (3 ½ cups) tomato juice
½ teaspoon sugar
Salt and pepper to taste
¼ cup olive oil
¼ cup white vinegar
Garlic Croutons
6 slices white bread
¼ cup olive oil
1 clove garlic, crushed
Method:
1. Finely chop onion, tomatoes, cucumber and capsicum. Place in large bowl with the garlic.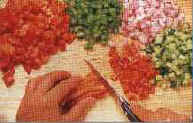 2. Stir in juice, sugar, salt and pepper, and combined oil and vinegar. Mix well. Refrigerate. Serve cold, with Garlic Croutons.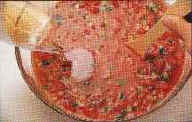 3. To make Garlic Croutons: Preheat oven to moderate l80 deg C. Trim crusts from bread, cut bread into 1 cm cubes. Drizzle with combined oil and garlic, mix well. Spread on baking tray.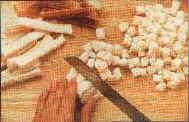 4. Bake for 10-15 mins, turning twice, or until golden brown.