2. Steam corn cobs until tender. Cool, then cut corn kernels from cobs. Heat the stock in a medium pan and add the corn, chicken and ginger. Simmer mixture, uncovered, 5 mins.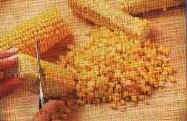 3. Combine corn flour and water in a small bowl and mix to a smooth paste. Add to the then pan, stirring until soup mixture thickens.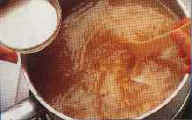 4. Add spring onion and sesame oil and stir to combine. Add salt and pepper to taste.
5. Serve immediately.

Note:- For a creamier consistency, puree half the cooked kernels in a food processor before adding. Canned corn niblets or creamed corn can also be used. For Sweet Corn and Crab Meat soup, replace the chicken with shredded crab meat.