2. Heat stock until just warm; season with salt and pepper to taste. Gradually add stock to the meat and vegetable mixture, whisking continuously over medium heat. Continue whisking for about 10 mins, bringing mixture slowly to boil.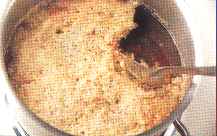 Reduce beat. Using a large spoon, make a hole in layer of froth floating on top of stock. Simmer gently, uncovered, for 35 mins; do not stir. Place a damp tea-towel or a double layer of fine muslin into a large strainer. Strain the liquid into a large, clear pan. Taste and add extra salt, if desired. Reheat and serve. Garnish with fine strips of carrot and leek (added at the last minute so as not to cloud the consommé).
Note:- Consommé is a very clear but strongly flavored broth which makes a light and elegant start to a dinner party. It is used instead of plain beef stock as the basis of many classic special occasion soups, such as Madrilène (flavored with celery and tomato) and Longchamps (which has fine noodles, chervil and strips of sorrel added). For an extra clear consommé, the straining may be done twice.