2. Boil mixture approximately 10 minutes or until golden brown. To test, drop a little toffee in cold water; it should form a hard ball when molded in the water with fingers.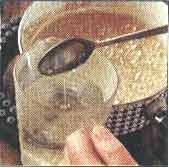 3. While toffee is boiling, oil a 18 x 28cm (7 x 11 in) lamington tin. Sprinkle half the toasted sesame seeds and all the nuts over base of tin. Pour the hot toffee evenly over this.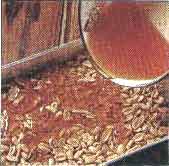 4. Smooth surface over with the back of an oiled wooden spoon. Sprinkle over remaining sesame seeds, cool slightly. Cut candy into strips before it is completely cold.