2. Cover mushrooms with boiling water, stand 30 minutes, drain, chop mushrooms finely. Combine mushrooms with beef, shelled and finely chopped prawns, finely chopped bamboo shoots, finely chop­ped shallots, ginger, crushed garlic, sesame oil and soy sauce.
3. Mix well. Place small amounts of mixture into center of each circle.
4. Brush edges of wrappers with water, fold in half, pinch edges together firmly.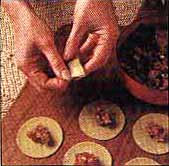 5. Drop Gow Gees into deep hot oil, fry until golden brown, remove, drain on absorbent paper. Don't have oil overhot or Gow Gees will brown before filling is cooked. Serve with sauce for dipping.