2. Remove crusts from bread, cut slices in half (the packaged sliced toast-bread is ideal for this). Put one prawn, cut side down on each piece of bread, gently flatten prawn on bread with palm of hand. With finger, rub over prawn lightly with left over corn flour mixture (this will help topping adhere).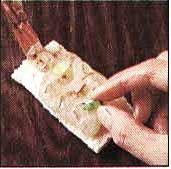 3. Chop egg yolk into small dice, push on to prawns near tail. Dice chicken into 1 cm (1/2in) squares, put one piece of chicken in center of each prawn. Finely chop shallot, put ¼ teaspoon chopped shallot at bottom of each prawn; there should be egg, chicken, and shallot down the center of each prawn.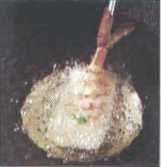 4. Heat oil in large pan, gently ease Prawn Toasts into hot oil. Cook only two or three at a time. Cook until bread is golden and prawns cooked through. Drain well.
5. Makes approximately 8 pieces.