2. Drain and refresh the watercress under cold running water to retain its bright colour. In a sieve, press well with the back of a kitchen spoon to remove excess moisture, then chop finely.

3. Melt the butter and fry the shallots until soft, but not brown. Add the flour and cook for 1—2 minutes, stirring continuously.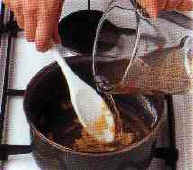 4. Turn off the heat and gradually blend in the stock, followed by the wine. Return to the heat, bring to the boil, stirring continuously, and simmer gently for 2—3 minutes.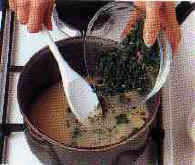 5. Strain into a clean pan, then add the watercress, anchovy essence and cream. Warm through over a low heat. Season with salt and cayenne pepper and sharpen with lemon juice according to taste.
6. Meanwhile, brush the fish with a little melted butter and grill for a few minutes on each side until just cooked through. Pour some sauce over each fillet and serve.