Method:
1. To make the sauce, bring a saucepan of water to simmering point. In a separate pan, heat the vermouth until it has reduced by half.

2. Pour the vermouth into a heatproof bowl, set it over the pan of water, add the lemon juice and egg yolks and whisk until fluffy.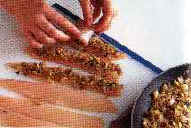 3. Remove from the heat and continue to whisk while adding the butter, a piece at a time. Stir in the chopped sorrel and season to taste with salt and pepper.

4. Preheat the oven to i90C/375F/Gas 5. For the fish, melt the butter in a frying pan.
5. Fry the onion and mushrooms until the onion is golden and the mushrooms have absorbed the liquid. Add the breadcrumbs and lemon balm and stir in salt and pepper to taste.
6. Place the pieces of lemon sole on a board and spread some of the mushroom mixture on each. Roll up the fish pieces carefully from head to tail and pack them tightly in a shallow casserole.
6. Pour the milk over, cover and bake for 15 minutes. Lift the fish carefully from the casserole and place on individual warmed plates. Serve with the sauce, garnished with whole sorrel leaves.