Method:
1. Heat the oil in a medium saucepan. Add the onion and cook over moderate heat for 5—8 minutes, or until it is translucent.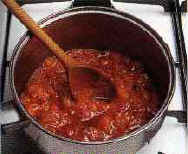 2. Stir in the garlic, fresh tomatoes and 45 ml / 3 tbsp water. If using canned tomatoes, add them with their juice, instead of water, and break them up with a wooden spoon.
3. Season with salt and pepper and add the herbs. Cook gently for 20-30 minutes.
4. Pass the sauce through a food mill or purée in a food processor. To serve, reheat gently and adjust the seasoning if necessary.