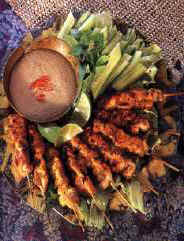 A traditional, spicy Thai sauce which is served with chicken.

Ingredients
150g / 5oz / scant 1 cup raw peanuts
15ml / 1 tbsp vegetable oil
2 shallots or 1 small onion, finely chopped
1 garlic clove, crushed
1—2 small chillies, seeded and finely chopped
1 cm / 1/2 in cube shrimp paste or 15 ml / 1 tbsp
fish sauce
30ml / 2 tbsp tamarind sauce
120 ml / 4 fl ozIh cup coconut milk
15 ml / 1 tbsp honey

TO SERVE
4 chicken breast fillets
15ml / 1 tbsp coriander seeds
10ml / 2 tsp fennel seeds
2 garlic cloves, crushed
5cm / 2 inch piece lemon grass, shredded
2.5ml / 1/2 tsp ground turmeric
10ml / 2tsp sugar
2.5ml / ˝tsp salt
30ml / 2tbsp soy sauce
15ml / 1tbsp sesame oil
juice of ˝ lime
lettuce leaves
˝ cucumber, quartered lengthways
1 lime, quartered
Mint sprigs, to garnish
Method:
1. Cut the chicken into long, thin strips and thread, zig-zag, on to 12 bamboo skewers. Arrange on a flat plate and set aside.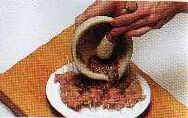 2. For the marinade, dry-fry the seed in a wok or heavy frying pan. Grind smoothly using a pestle and mortar or food processor. Add the garlic, lemon grass, turmeric, sugar, salt, soy sauce, sesame oil and lime juice. Allow to cool. Spread evenly over the chicken and leave in a cool place for up to 8 hours.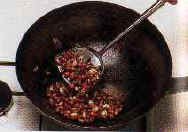 3. To make the sauce, fry the peanuts in a wok or heavy frying pan with a little oil, or place under a moderate grill, tossing them to prevent burning. Turn the peanuts out on to a clean cloth and rub vigorously to remove the papery skins. Place the peanuts in a food processor and process for 2 minutes.