Method:

1. To make the sauce, put the butter in a mixing bowl and beat with a wooden spoon or electric mixer until soft. Add the coriander and lime juice and rind. Season to taste.

2. Transfer the butter to a piece of greaseproof paper and shape it into a neat roll. Wrap and refrigerate until firm or wrap again in foil and freeze.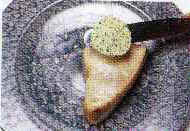 3. Lay the fish steaks side by side in a shallow dish. Combine the oil and juices, season and pour over the fish. Cover and refrigerate for 1—2 hours, turning the fish once or twice.

4. Preheat the grill or prepare a charcoal fire in a barbecue.


5. Drain the fish and arrange on the rack in the grill pan, or set over the
hot charcoal about 713 cm/5 in from the coals. Grill for 3—4 minutes, or until just firm to the touch, but still moist in the centre, turning the steaks over once.
6. Transfer to warmed plates. Cut the coriander—lime butter into discs and place one on top of each fish steak, so that it melts to form a sauce.
Serve the fish immediately, garnished with lime wedges and coriander, and
accompanied by asparagus.