Ingredients
30 ml/ 2 tbsp vegetable oil
1.5 kg/ 3—3½ lb shin, shank or neck of beef bones, cut into pieces
225g / 18 oz shin of beef, cut into pieces
1 bouquet garni
2 onions, quartered
2 carrots, chopped
2 celery sticks, sliced
5 ml /1 tsp black peppercorns
2.5 ml / ½ tsp salt
Method:

1. Preheat the oven to 220C / 425F/ Gas 7. Drizzle the vegetable oil over the bottom of a roasting tin and add the bones and meat. Coat in the oil and bake for 25—30 minutes,
or until well browned, turning regularly during cooking.
2. Transfer the meat and bones to a large saucepan, add the remaining ingredients and cover with 3.2 litres/ 5 1/2 pints / 14 cups water.
3. Bring to the boil, skim the surface with a spoon, then partially cover and simmer for 2 1/2 — 3 hours, or until reduced to 1.6 litres per 2 3/4 pints 6 / 6 1/2 cups.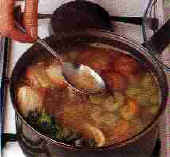 4. Strain the stock into a bowl. Cool and remove the solidified fat before
use. The stock can be stored for up to 4 days in the fridge.