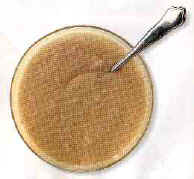 Smooth and surprisingly delicate, this old—fashioned sauce is traditionally served with roast chicken, turkey and game birds. For a less strong flavour, reduce the number of cloves and add a little grated nutmeg.

Ingredients
1 small onion
4 cloves
1 bay leaf
300 ml / ˝ pint/ l1/4 cups milk
115 g/4 oz/2 cups fresh white breadcrumbs
15 ml / 1 tbsp butter
15 ml / 1 tbsp single cream
salt and freshly ground black pepper
Method:

1. Spike the onion with the cloves. Put it into a saucepan with the bay
leaf and pour in the milk.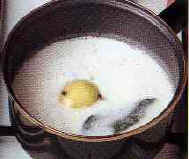 2. Bring to the boil, then remove from the heat and set aside to infuse for 15—20 minutes. Remove the
bay leaf and onion.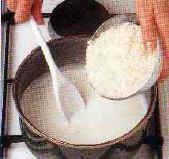 3. Return the milk to the heat and stir in the breadcrumbs. Simmer until the mixture is thick and creamy. Stir in the butter and cream, season to taste and serve.