2. Place the cooking apples
in a saucepan with the
water and lemon rind. Cook,
uncovered, over a low heat
until very soft, stirring
occasionally.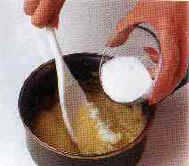 3. Remove the lemon rind, then beat the apples to a pulp with a spoon or press through a sieve.
4. Stir in the butter and add sugar according to taste.
5. Allow to cool a little before serving.