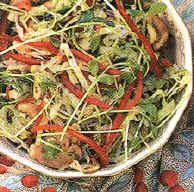 This delightfully fresh dish makes a superb accompaniment to steamed rice and fish or chicken. Use prepared chopped ginger and chili to save time.

Ingredients
1 tsp oil
1 clove garlic, crushed
2 tsps finely chopped lemon grass
1 tsp fresh chopped ginger
1/2 tsp chopped chili
2 tbsps chicken stock
300 g shredded cabbage
1 red capsicum, seeded and sliced
1 cup sliced mushrooms
1 cup snow-pea sprouts (or use bean sprouts)
1 tbsp chopped mint
Method:

1. Heat oil and gently cook garlic, lemon grass, ginger and chili for 2-3 minutes. Add chicken stock and bring to the boil.

2. Add cabbage, capsicum, mushrooms, sprouts and mint. Toss gently together for 4-5 minutes until thoroughly heated.

3. Serve at once.

Nutritional information per serve: Protein 3 g; fat 1 g; carbohydrate 4 g; very good dietary fiber 4 g; 150 kJ (35 Cals).

Other features: An excellent source of vitamin C and provides useful amounts of potassium as well as some iron and B vitamins. Low sodium (15 mg).