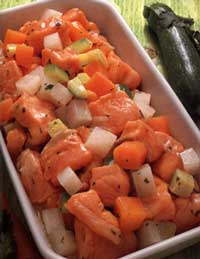 Ingredients
340 g / 12 oz salmon or salmon trout fillets
2 carrots, peeled and diced
1 large courgette peeled and diced
1 large turnip, peeled and diced
Chopped fresh coriander
45ml / 3 tbsps tarragon or vinegar
Salt and pepper
Pinch cayenne pepper
45ml / 3 tbsps olive oil
Whole coriander leaves to garnish
Method:

1. Skin the salmon fillet and cut the fish into 2.5cm / 1 inch pieces. Place in a bowl and add the vinegar, stirring well, Leave to stand for at least 2 hours.
2. Cut the vegetables into 1.25cm / ½ inch dice and place the carrots in boiling water for about 5 minutes. Add the courgette and turnip during the last minute of cooking time.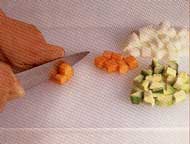 3. Add the coriander, oil, salt and pepper and pinch cayenne pepper to the fish. When the salmon has marinated, it will become opaque and look cooked. Combine with the vegetable! mixing carefully so the fish does not break up. Chill brief before serving and garnish with coriander.