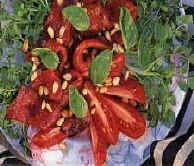 Ingredients
4 red capsicums
1 tbsp pine nuts
2 cups watercress
4 medium tomatoes, very ripe, cut into wedges
1 tbsp extra virgin olive oil
1 tbsp balsamic vinegar
1 tbsp fresh shredded basil
A great salad to make when red capsicums are cheap, plentiful and full-flavored. Serve it on its own as a first course or with grilled fish, steak or chicken.

Method:

1. For a really sweet flavor, remove skin from capsicums: cut capsicums in half, remove seeds and place cut side down under a hot grill until skins blister. Place capsicums in a paper bag or wrap in a clean, damp tea towel for 10 minutes. Gently rub off skins. Slice capsicums into strips.
2. Toast pine nuts in a dry frying pan over a low / moderate heat until golden brown. Set aside.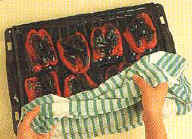 3. Arrange watercress on each serving dish. Arrange tomatoes on half of the watercress and capsicums on the other.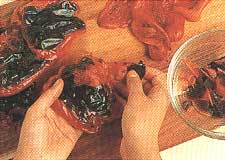 4. Combine oil and vinegar and drizzle a little over each plate. Top with basil and pine nuts.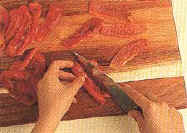 Nutritional information per serve: Protein 4 g; fat 5 g; carbohydrate 7 g; good dietary fiber 3 g; 360 kJ (85 Cals).

Other features: Excellent source of vitamin C, good source of potassium and vitamin A and provides some iron and niacin. Negligible sodium.