2. Grate the courgettes in the same way and add to the carrots.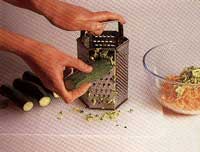 3. Grate the orange on the fine side of the grater.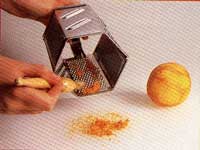 When grating oranges or other citrus fruit, use a pastry brush to remove all the zest from holes in grater. Then cut in half to squeeze the juice. Mix the juice and rind with the olive oil and salt and pepper Pour over the carrots and the courgettes and stir well. Leave to marinate for about 15 minutes.
4. Sprinkle over the almonds and toss just before serving.