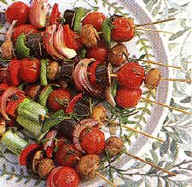 Ingredients
8 small Spanish onions, peeled and cut in half
1 red capsicum, cut into 16 squares
1 green capsicum, cut into 16 squares
16 button mushrooms
2 leeks, cut into 2.5 cm pieces
4 thin eggplant, cut into 2.5 cm pieces
1 punnet cherry tomatoes
2 tbsp low-kilojoule dressing
2 tbsp chopped fresh herbs (parsley, chives, rosemary or other combinations)
These vegetable kebabs combine well with barbecued fish or chicken - or they are
delicious on their own.

Method:



1. Arrange vegetables on skewers (soaked in water to prevent burning).

2. Combine dressing with herbs and brush it over vegetables. Barbecue for about 10 minutes, turning skewers several times and brushing with remaining dressing.


Nutritional information per serve: Protein 7 g; no fat; carbohydrate 11 g; very good dietary fiber 6 g; sodium 185 mg; 310 kJ (75 Cals).

Other features: Excellent source of vitamin C, good source of potassium, niacin and riboflavin and provides useful amounts of iron and vitamin A.