3. Turn the dough out onto a floured surface and knead for 10 minutes or until the dough is smooth and elastic. Place in a lightly oiled bowl or in a large plastic bag, cover or tie the bag and leave to stand in a warm place for 30 minutes, or until the dough has doubled in bulk.

4. Knock the dough back and knead it into a smooth ball. Flatten the dough and roll out into a circle on a floured surface. The circle should be about 25cm / 10 inches in diameter.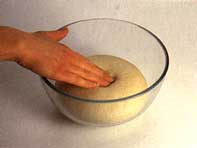 5. To prepare the topping, heat the oil in a heavy-based saucepan and add the onion and the garlic. Cook until the onion and garlic have softened but not colored. Add the tomatoes and their juice, tomato purée, herbs, sugar salt and pepper.
6. Bring the sauce to the boil and then allow to simmer, uncovered, to reduce. Stir the sauce occasionally to prevent sticking. When the sauce is thick and smooth, leave it to cool.
7. Spread the cooled sauce over the pizza dough. Sprinkle half the cheese on top of the tomato sauce and then arrange the topping ingredients. Sprinkle with remaining cheese and bake in a 200C / 400F / Gas Mark 6 oven for 15-20 minutes or until the cheese is melted and bubbling and the crust is brown.