2. Sift flour and corn flour into bowl,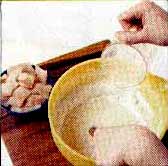 make well in center of sifted flours with back of spoon, add egg white and water, mix to a smooth batter, beat well.
3. Heat oil in large pan, dip fish pieces in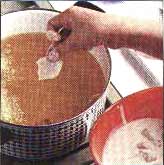 batter to coat completely, drain off excess batter; lower fish pieces into hot oil, cook until golden brown and cooked through, about five minutes. Cooking time will depend on thickness of fish. Drain on absorbent paper.
SAUCE:
4. Place oil, grated green ginger, crushed garlic, the bottled tomato sauce and chilli sauce in pan. Stir over medium heat one minute, add remaining ingredients, mix well. Place chilli sauce in wok or large frying pan, add fish pieces, toss over high heat until fish pieces are coated with sauce and heated through.