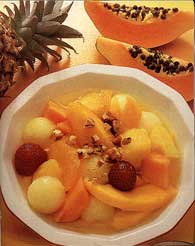 Ingredients
1/2 cantaloup or honeydew melon, cubed or made into balls
1/2 small fresh pineapple, peeled, cored and cubed or sliced
120g/4oz fresh strawberries, hulled and halved (leave whole, if small)
1 mango, peeled and sliced or cubed
225 gl8oz watermelon, seeded and cubed
120 gl4oz guava or papaya, peeled and cubed
2 oranges, peeled and segmented
1 prickly pear, peeled and sliced (optional)
120g/4oz sugar
140ml 1 1/4 pint water
Grated rind and juice of 1 lemon
30g/2 tbsps chopped pecans to garnish (optional)
Method:

1. To make melon balls, cut melons in half and scoop out seeds and discard them. To use a melon baller, press cutting edge firmly into the melon flesh and twist around to scoop out round pieces.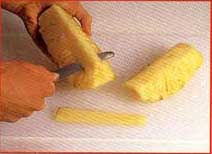 2. It is easy to core the pineapple. It is first cut into quarters. Use a serrated fruit knife to cut the point off the quarter, removing the core. Slice of the peel. Cut into slices or cubes and mix with the other fruit.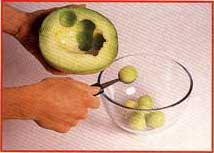 3. Dissolve the sugar in the water over gentle heat and when the mixture is no longer grainy, leave it to cool completely
4. Add lemon rind and juice to the sugar syrup and pour over the prepared fruit. Refrigerate well before serving. Sprinkle with chopped nuts, if desired.