Method:
1. Combine the first amount of sugar with the water and lemon juice in a small, heavy-based saucepan.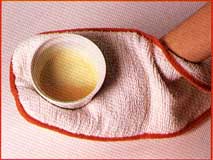 2. Cook over gentle heat until the sugar starts to dissolve. Swirl the pan from time to time but don't stir.
3. Once the sugar liquifies, bring the syrup to the boil and cook until golden brown.
4. While preparing the syrup, heat 4 ramekin dishes in a 18O0C / 35O0F Gas Mark 4 oven. When the syrup is ready, pour into the dishes and swirl to coat the sides and base evenly. Leave to cool at room temperature.