3. Grease and flour three 20cm/ 13 inch round cake pans, placing a sheet of greaseproof paper in the base if desired. Divide the cake mixture among the three pans and bake for 30-40 minutes in the preheated oven. Allow to cool briefly in the pans, loosen the sides and remove the cakes to a rack to finish cooling.
4. Whip the cream and the sugar. Reserve one third of the cream for the top and fold the finely chopped almonds into the remaining two thirds. Sandwich the cake layers together with the almond cream and spread a layer of plain cream on top, reserving some for piping.
Sandwich the layers of cake together with the almond cream. pressing down lightly so that the cream shows around the edge.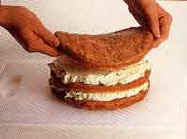 5. Fill a piping bag fitted with a rosette nozzle with the remaining cream and pipe cut rosettes or other decorations on top of the cake. Decorate with the whole almonds and angelica or cherries.

Watchpoint
Over-whipped egg whites are difficult to incorporate into the cake mixture and also begin to liquify and lose volume.

Preparation
Almonds are usually available already ground, chopped, roasted or unroasted. Alternatively buy whole blanched almonds and roast the total amount for the recipe all at once in a moderate oven. Turn them often for even roasting.

Cook's Tip
Cream that has been in the refrigerator for at least 2 hours before whipping produces a better result. It cream becomes slightly over whipped, stir in a few spoonfuls of milk.